50m³/h Cement Pump Machine has maximum output of 50 cubic meter per hour, equipped with self-diagnosis technology monitoring the pump status at any time as well as diagnosing more than 50 faults in real time. The 50 cubic meter trailer pump is capable of reducing the troubles shooting time by 70%, granting you both time and peace of mind.



Low Costs and Wide Adaptability

Advanced Energy-saving Tech

New-generation energy-saving technology and automatic adjustments of the engine and power based on load makes every drop of fuel produce strong power, reducing 25% of energy consumption.

Wear Resisting Parts

Discharge port, wear plate and cutting ring, concrete piston and delivery cylinder adopt Sino-Germany high-tech materials and advanced technology to greatly improve the product performance.

Wide Adaptability

Capable of operating under any condition from -22°C to 55°C, operating continuously for up to 12 hours, can handle any fluid, pumping of difficult concrete like B90, C150, and 3-gradation concrete and even pump materials such as silt, slag, waste materials, and mortar.
Features of trailer concrete pump
use S-valve to switch the direction, for fine stone concrete conveying
good sealing S-valve, installed with floating wear resistant ring
High-quality wear resistant alloy components for long service-life
high delivery pressure for demand of high-rise and long distance projects
double-loop open circuit hydraulic system, ensure fast direction switching speed and high efficiency
air cooling system, without dependence of external water supply
with re-pumping function to smooth construction of better accessibility
automatic lubrication system for long service-life
PLC system to ensure best electrical control performance
equipped with wired remote controller, easy to operate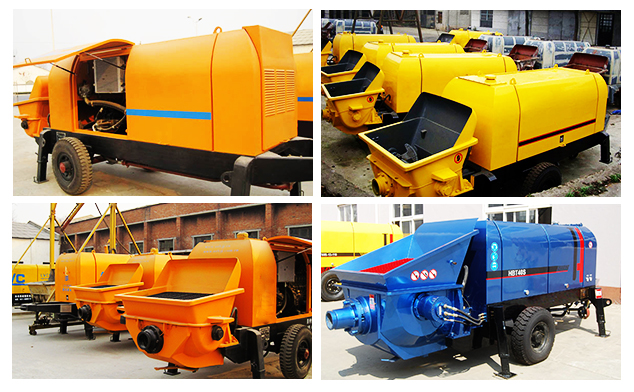 Item
Unit
HBT50
Theory Concrete Output
(Low / High Pressure)
m3/h
50
Concrete Pressure
(Low / high pressure)
Mpa
13/7.4
Hydraulic system pressure
Mpa
32
Rotation speed
r/min
1480
High / low pressure switch
Yes
Distribution valve
S valve
Pumping cylinder diameter/ Stroke
mm
195/1500
Main oil pump discharge
ml/r
110
Motor power
kw
145
Voltage/ Frequency
V/Hz
380/50
Hydraulic tank volume
L
400
Height of adding material
mm
1355
Hopper volume
m3
0.8
Total mass
kg
5800
Concrete slump
mm
120-230
Aclinic Delivery distance

m
1200
Theory vertical pumping height
m
250
Dimension: L*W*H
mm
6240*2110*2550